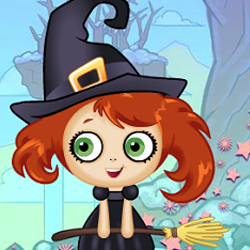 Eggies is a free to play social game developed by playBrains. Released in 2012 on Facebook and later ported to iOS and BlackBerry10 devices. The game tasks players with helping little witch Brenda save her animal friends who, as a result of a magical mishap, have been trapped inside colourful eggs.
The game is a classic match-3 puzzle game, but with a twist – any of the animals, or Eggies as they're called, you free can help break open more eggs if they are included in another match. Players race against the clock to free as many Eggies and break as many eggs as possible in a minute. Special boosts, like the penguin party and bunny blitz, can be purchased using gold bars earned throughout the game. Other powerful boosts can be purchased using gold coins, including exploding potions that clear part of the game board and time extenders to give players an extra 10 seconds at the end of a round. As a free to play game, gold bars and coins can be earned throughout the game, but can be purchased in the store using real money for those looking to gain these items faster.
All versions of the game can be linked to the player's Facebook profile, creating a leaderboard filled with friends' scores. Leaderboards reset weekly so players always have a chance to beat friends and reach the top of the leaderboard! Those feeling less competitive or more generous can use Facebook to give hearts to their friends, which are used to start new rounds of the game.
Currently, Eggies has over 50,000 players on Facebook with more logging in to play on mobile devices. As more and more games integrate mobile devices with social networks, why not get started with this fun, slightly addictive, match-3? Get your friends to play along to make the experience more enjoyable – and competitive. Eggies can be downloaded from Facebook, to iOS mobile devices through the iTunes store, or onto BlackBerry10 devices through BlackBerry World.